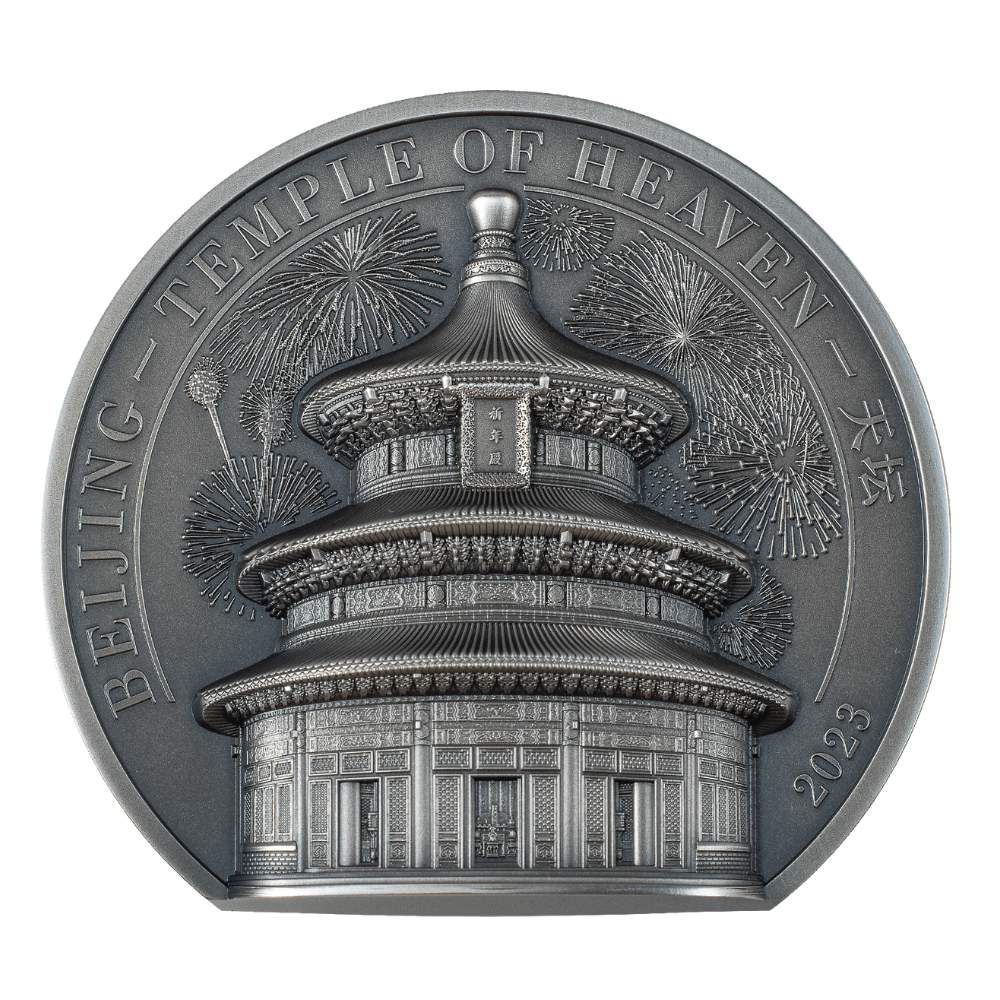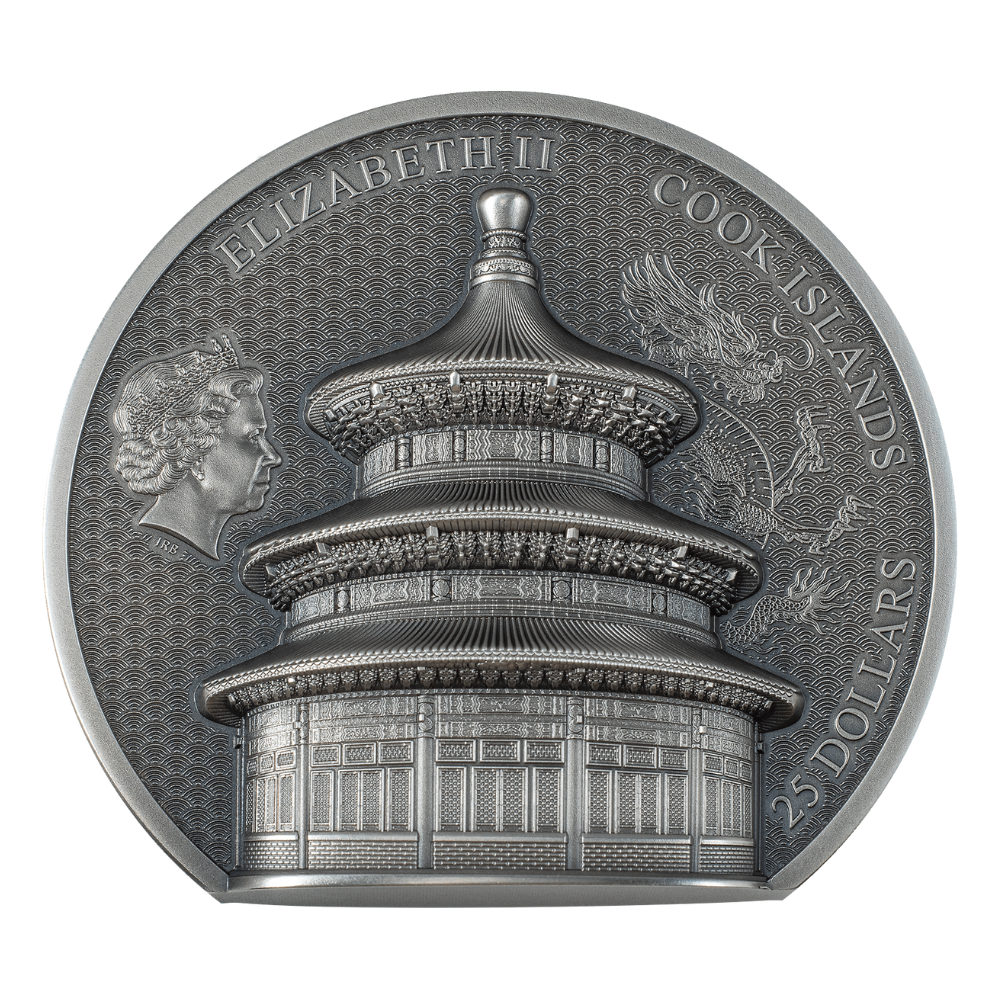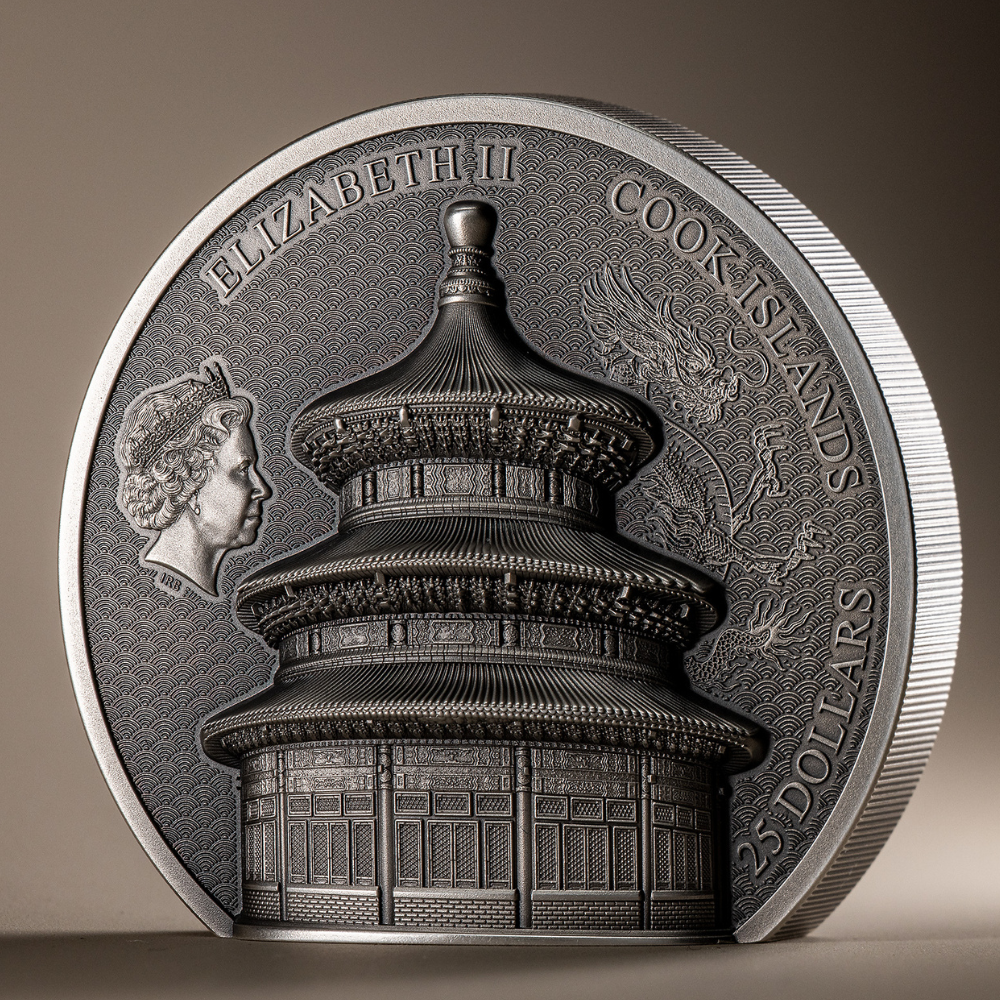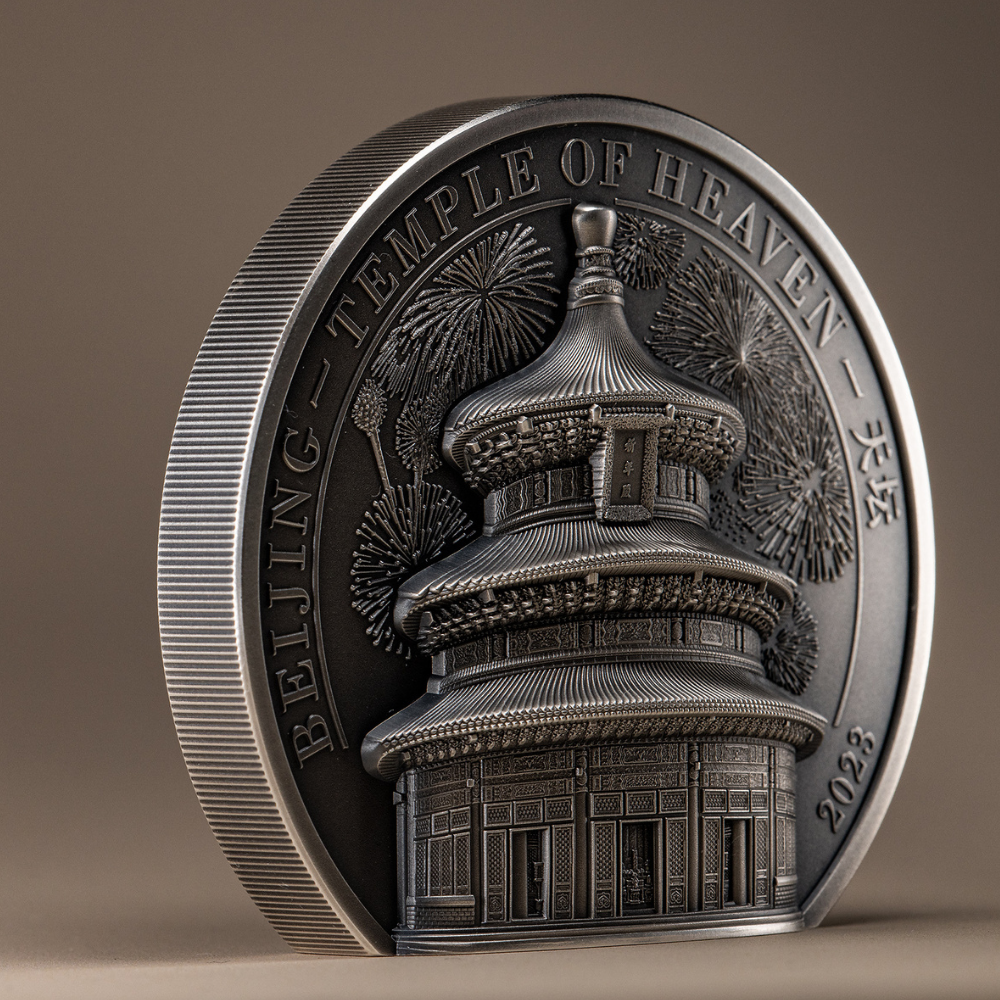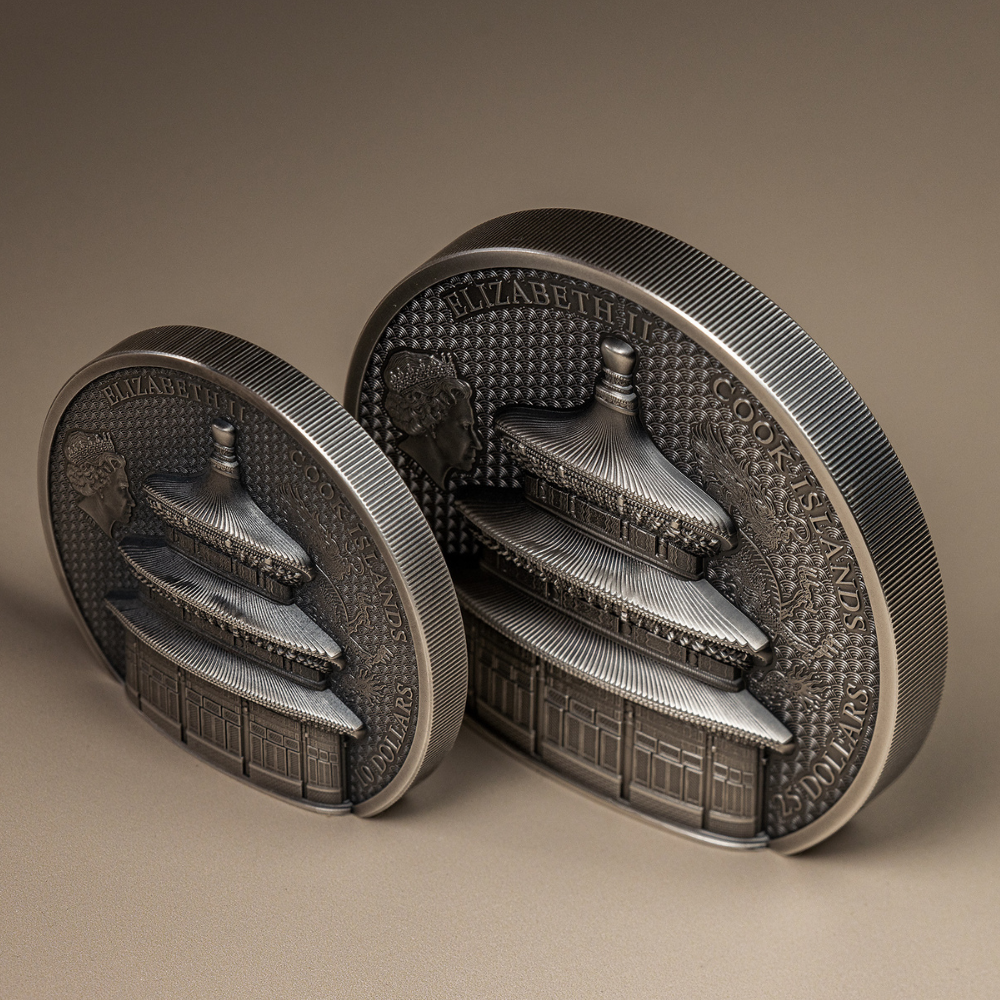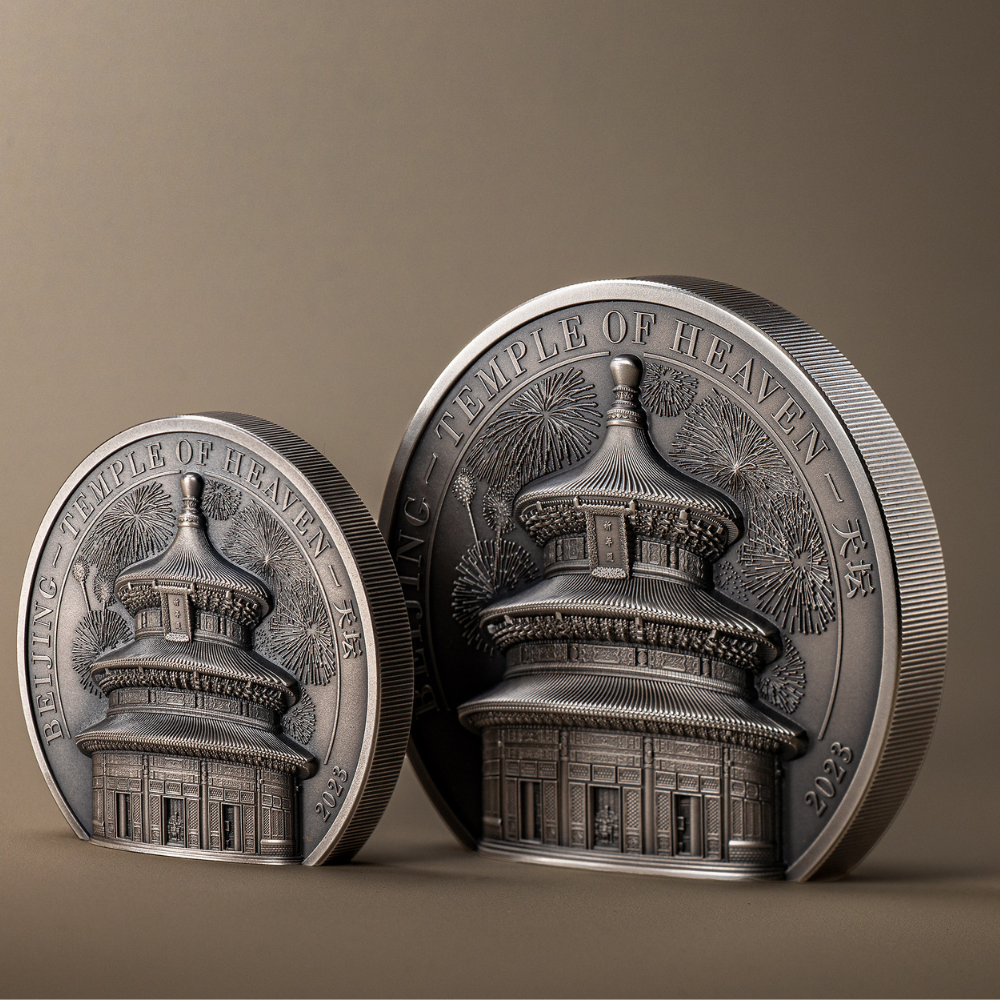 TEMPLE OF HEAVEN Beijing 5 Oz Silver Coin $25 Cook Islands 2023
This beautiful 5 Oz Silver coin is dedicated to a wonderful achievement of traditional Chinese architecture, The Temple of Heaven. The coin has a flat bottom edge, has Ultra High Relief thanks to Smartminting Technology and has Antique Finish. It comes in a case, along with the Certificate of Authenticity. Limited mintage to 888 pieces worldwide!
In stock
Immerse yourself in the timeless beauty of Chinese architecture with the Temple of Heaven Beijing 5 Oz Silver Coin. This exquisite coin pays tribute to the remarkable Temple of Heaven, an iconic symbol of China's rich cultural heritage and architectural prowess.
The focal point of the temple complex is the awe-inspiring Hall of Prayers for Good Harvests, an extraordinary structure that captures the imagination. Crafted entirely of wood without the use of nails, this three-level masterpiece stands on a foundation of marble stone. Serving as a sacred site for the emperors of the Ming and Qing dynasties, the hall was where they offered prayers and sacrifices to ensure bountiful harvests and divine favor.
Originally built in 1402 in Beijing, the construction of the Temple of Heaven was completed in 1420, coinciding with the completion of the nearby Forbidden City. Tragically, a devastating fire caused by lightning razed the original complex to the ground in 1889. However, the temple was meticulously reconstructed to its former glory, faithfully replicating its architectural splendor and retaining its historical significance.
This 5 oz silver coin, struck from .999 fine silver, showcases the Temple of Heaven in stunning detail. The antique finish enhances the coin's visual appeal, adding depth and highlighting the intricate craftsmanship of the temple's design. With a diameter of 50 mm, the coin provides ample space for the intricate engravings that bring this architectural wonder to life.
Limited to a mintage of 888, this coin is a true collector's gem. Each coin is minted using smartminting® technology, which achieves ultra-high relief that accentuates the intricate details of the temple. It is a testament to the skill and artistry of the craftsmen involved in its creation.
Whether you are a seasoned collector, a history enthusiast, or simply appreciate the beauty of architectural marvels, the Temple of Heaven Beijing 5 Oz Silver Coin is a remarkable addition to your collection. It is a tangible piece of China's cultural legacy, encapsulating the grandeur, spirituality, and enduring elegance of one of the world's most extraordinary structures.
smartminting©
The smartminting© technology is a ground-breaking advancement in contemporary numismatics that permits an unparalleled level of ultra-high relief, and it establishes novel benchmarks in the coin industry.
This technology enables the production of standard weight coins with larger diameters, while maintaining high relief height.

It also allows for coins with greatly reduced weight to maintain standard relief heights and permits coins with only slightly increased weight to exhibit high reliefs.