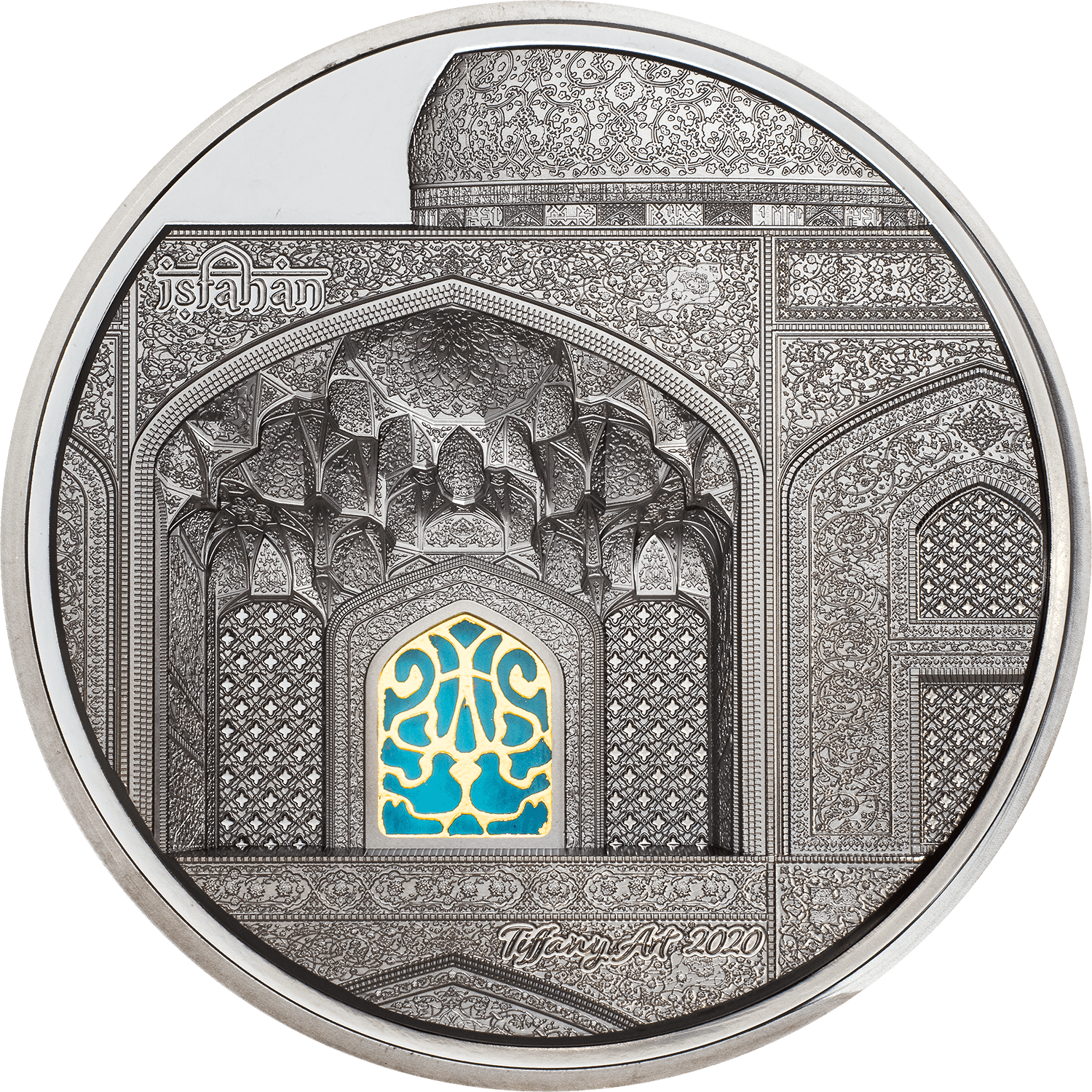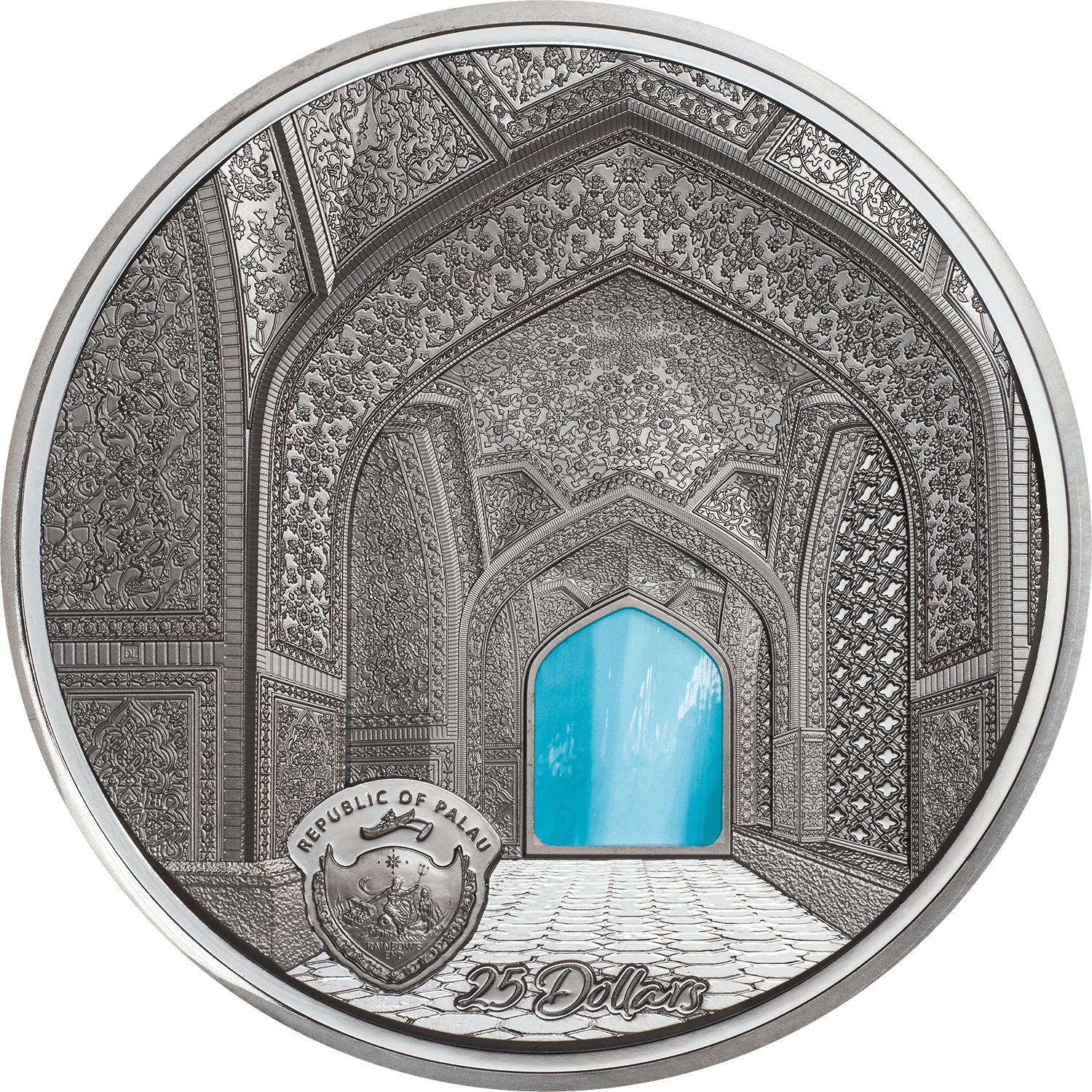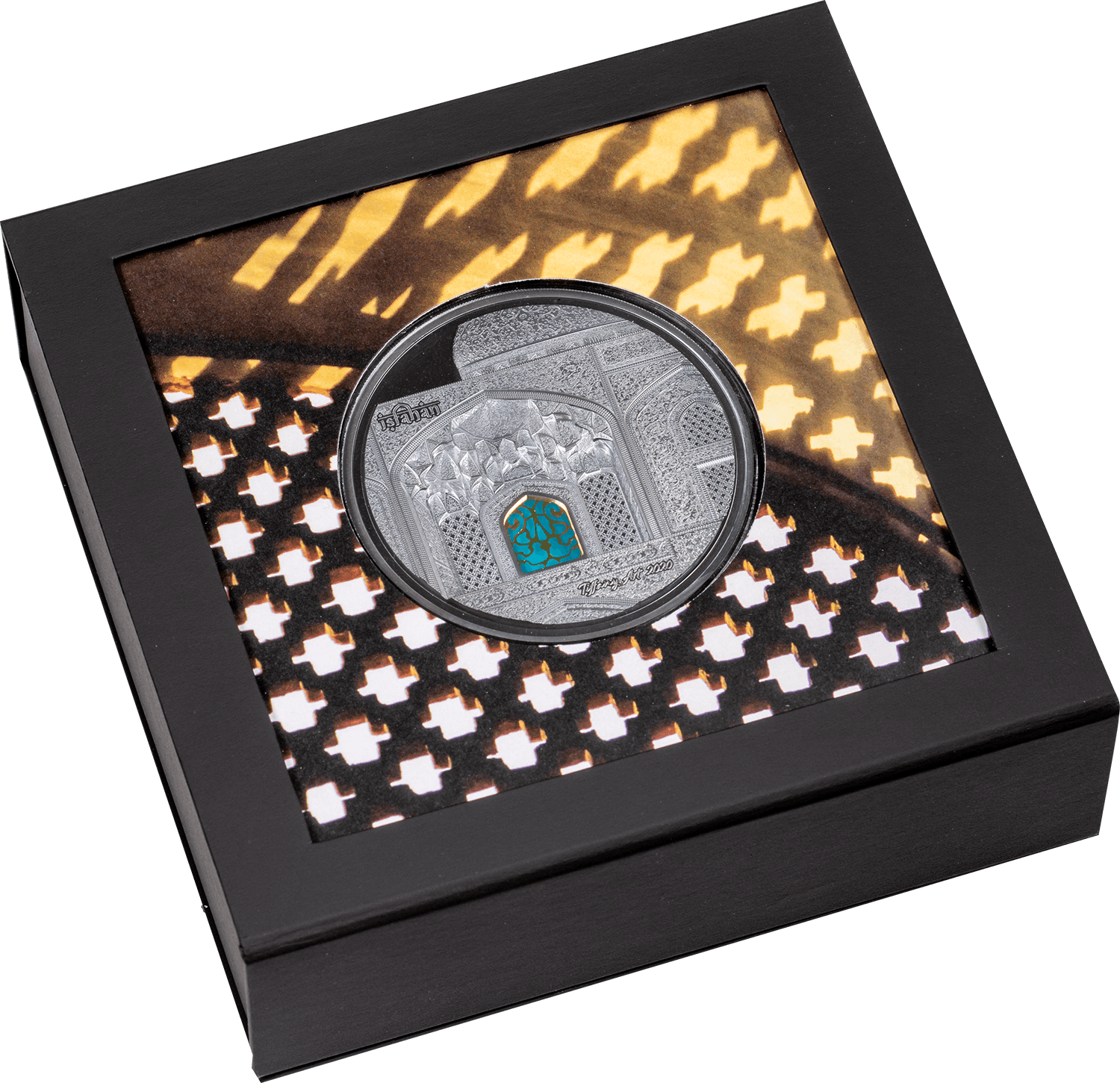 TIFFANY ART Isfahan 5 Oz Silver Coin $25 Palau 2020
This special 5 Oz Silver coin is part of the well-known "Tiffany Art" series and is dedicated to the amazing Iranian architecture. In this edition – the Imam Square. The coin features the Smartminting technology, has an amazing design, features a wonderful Glass insert and comes in an elegant case, along with the Certificate of Authenticity. Limited mintage to 555 pieces worldwide!
Only 1 unit left
Indulge in the timeless elegance of the Tiffany Art Isfahan 5 oz Silver Coin, a true masterpiece that captures the essence of Persian architecture and art. Following the resounding success of the limited 5 oz gold edition in 2020, CIT has responded to the fervent requests of collectors and dealers by introducing two highly anticipated new editions.
Among these releases is the 5 oz black proof edition, exquisitely crafted with a partly gilded design, limited to just 555 pieces. The coin's 65 mm diameter allows every intricate detail to shine, showcasing the architectural marvels of Naghsh-e Jahan Square. As you explore the coin's highly detailed relief, you'll be enthralled by the awe-inspiring beauty of the Sheikh Lotfollah Mosque, which graces the east side of the city square. Its majestic arches and meticulous tile work are faithfully reproduced, capturing the essence of this UNESCO World Heritage site.
The integration of the artful Tiffany style glass within the design is a testament to the ingenuity of CIT. Through the innovative smartminting© technology, the coin achieves an impeccable fusion of the tiffany series' stunning details with the contrasting finishes of both blackproof and proof. This cutting-edge approach to modern minting techniques results in a visual spectacle that will captivate numismatic enthusiasts worldwide. Witness the striking contrast between the blackproof finish and the proof finish, showcasing the coin's versatility and adding an extra layer of sophistication to its overall allure.
With a limited mintage of only 555 pieces, this 5 oz silver coin is a rare and highly coveted treasure. The popularity of the Tiffany Art series and the exceptional beauty of the Isfahan design are expected to drive a swift sellout of this monumental issue. Don't miss the opportunity to own a piece of numismatic art that pays tribute to the splendor of Persian architecture, making a lasting impression with its breathtaking craftsmanship and timeless appeal.
smartminting©
The smartminting© technology is a ground-breaking advancement in contemporary numismatics that permits an unparalleled level of ultra-high relief, and it establishes novel benchmarks in the coin industry.
This technology enables the production of standard weight coins with larger diameters, while maintaining high relief height.

It also allows for coins with greatly reduced weight to maintain standard relief heights and permits coins with only slightly increased weight to exhibit high reliefs.