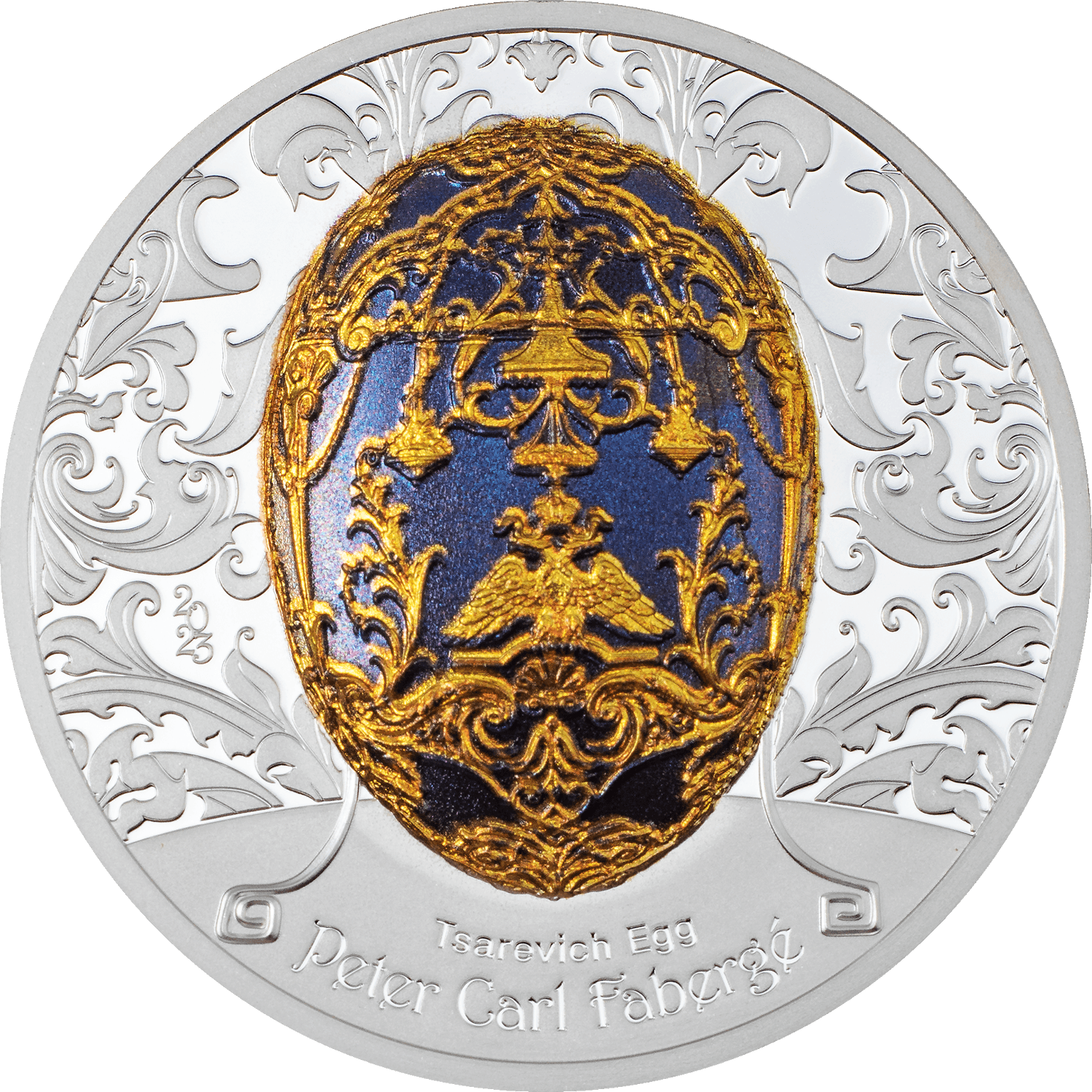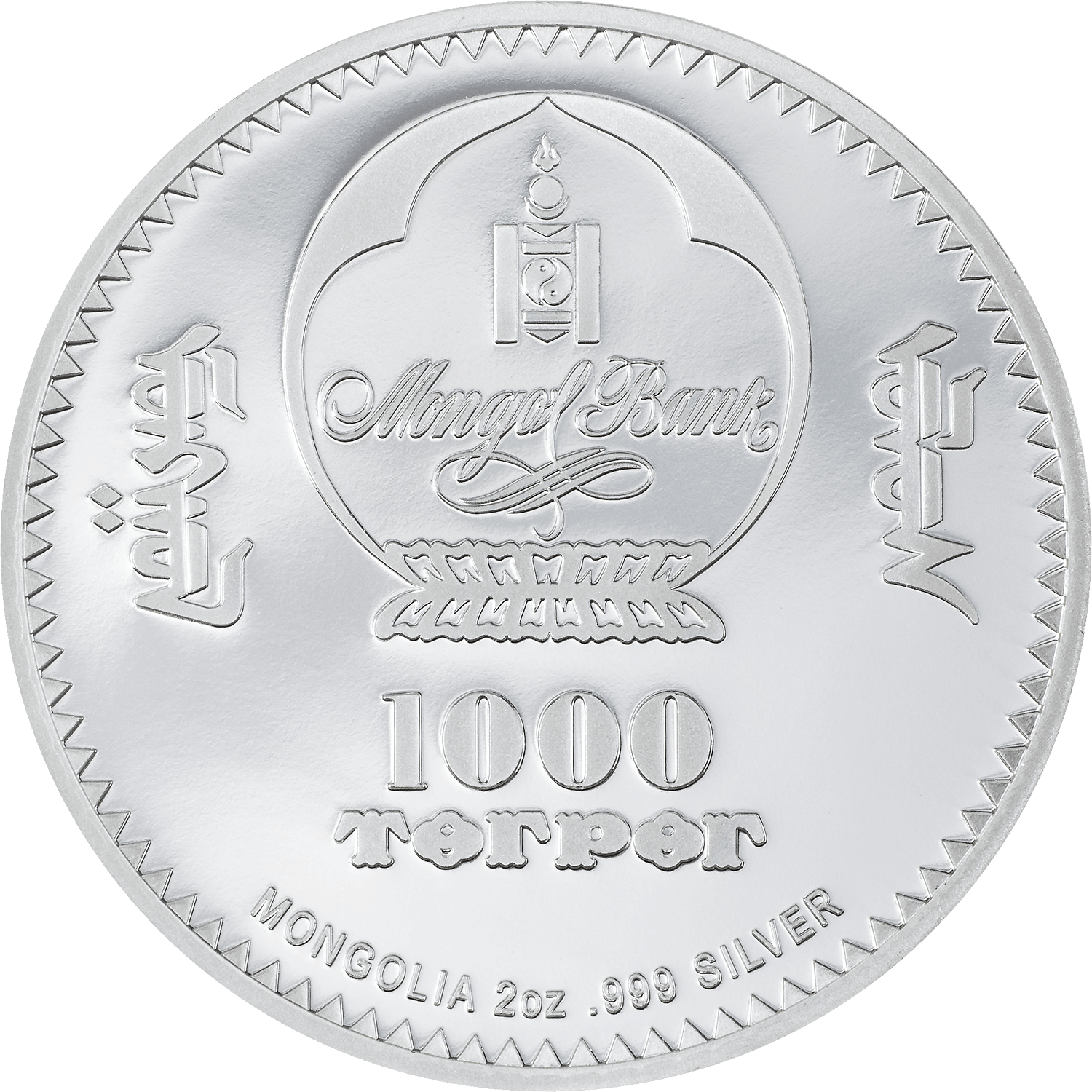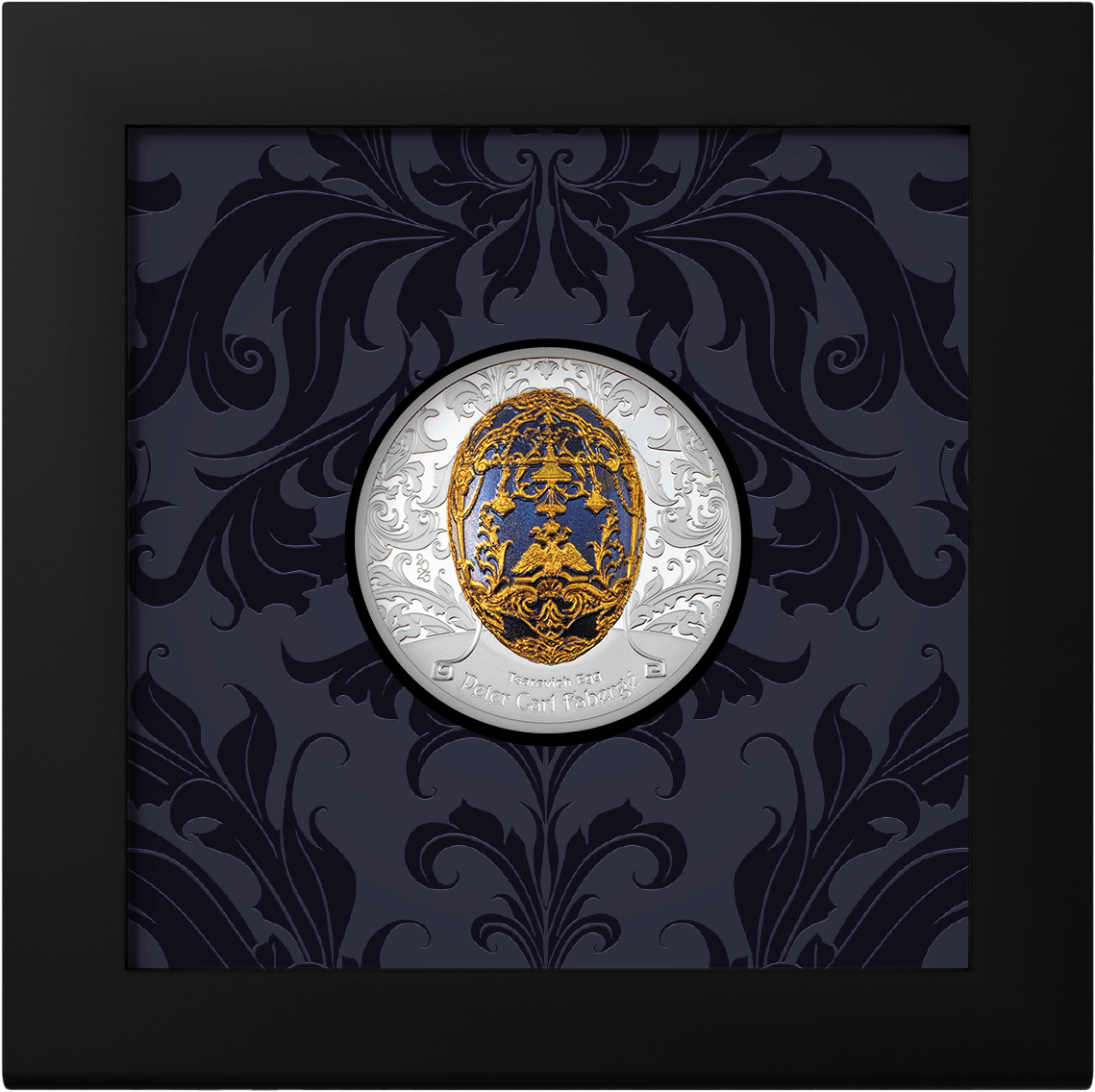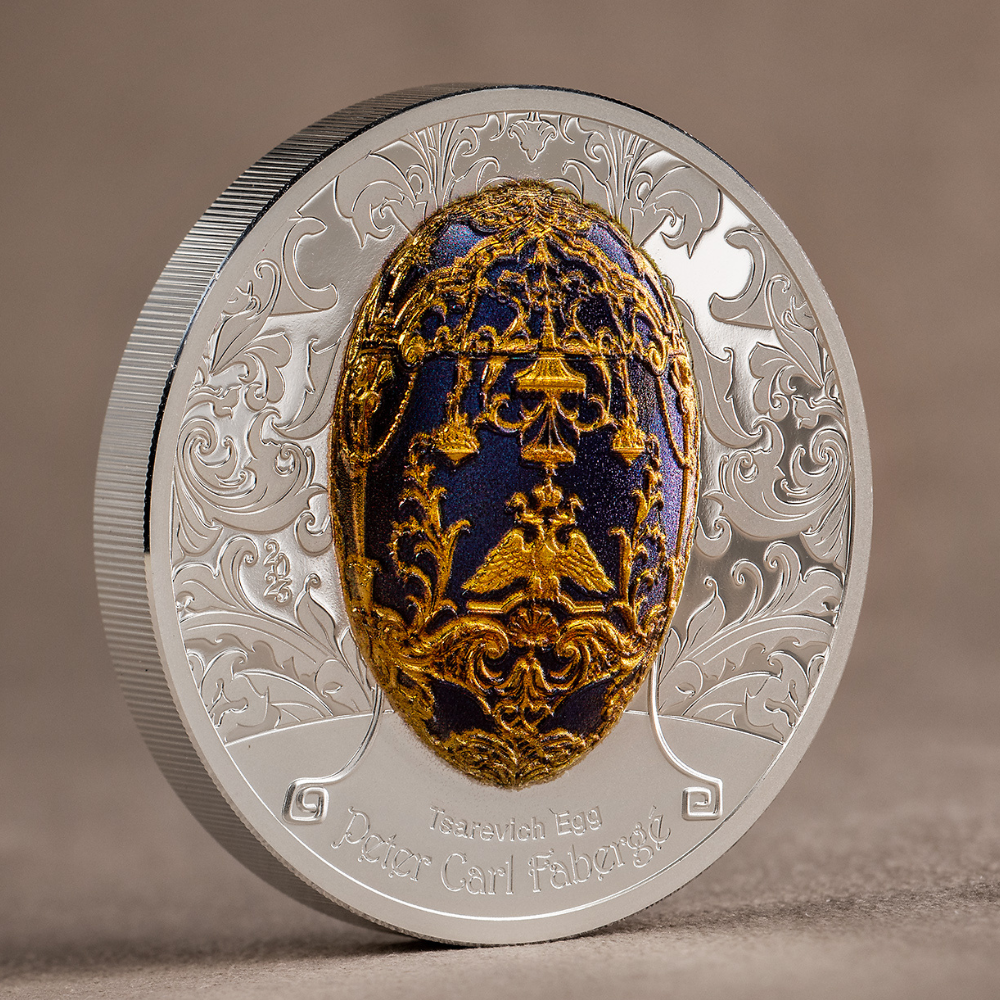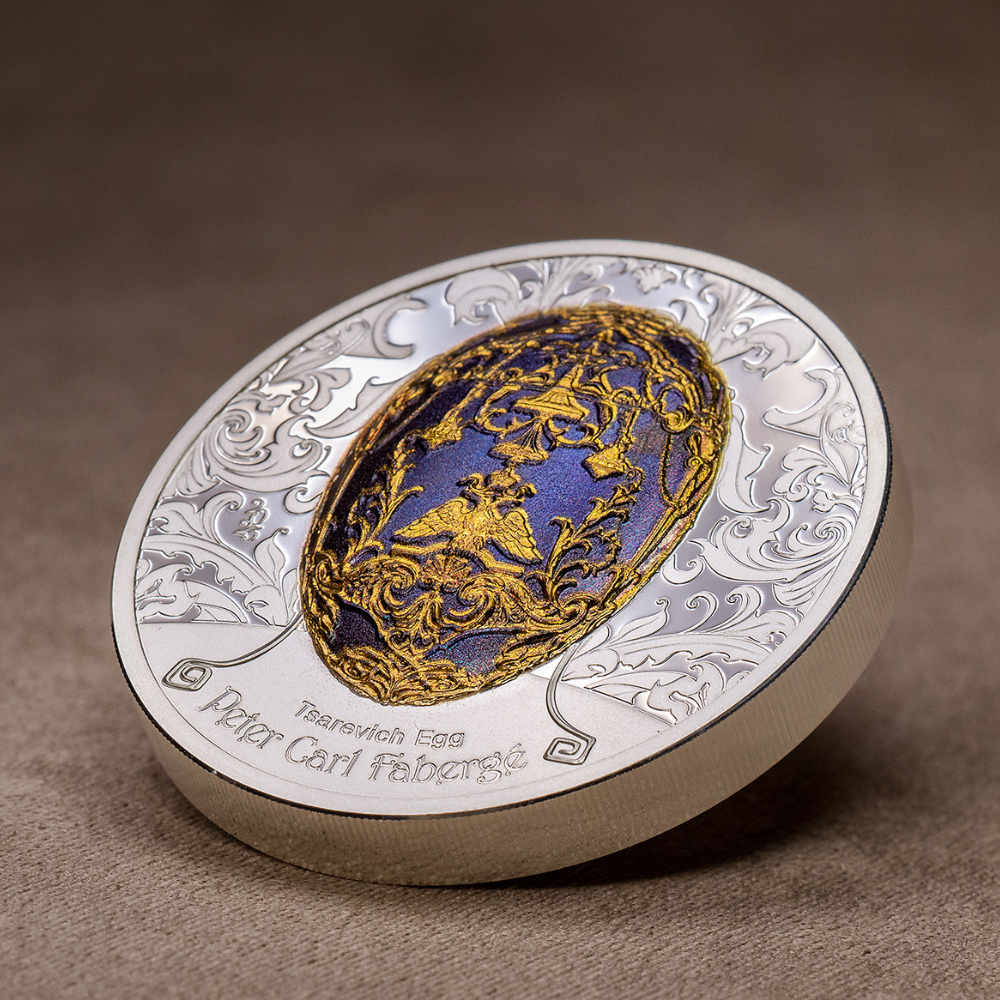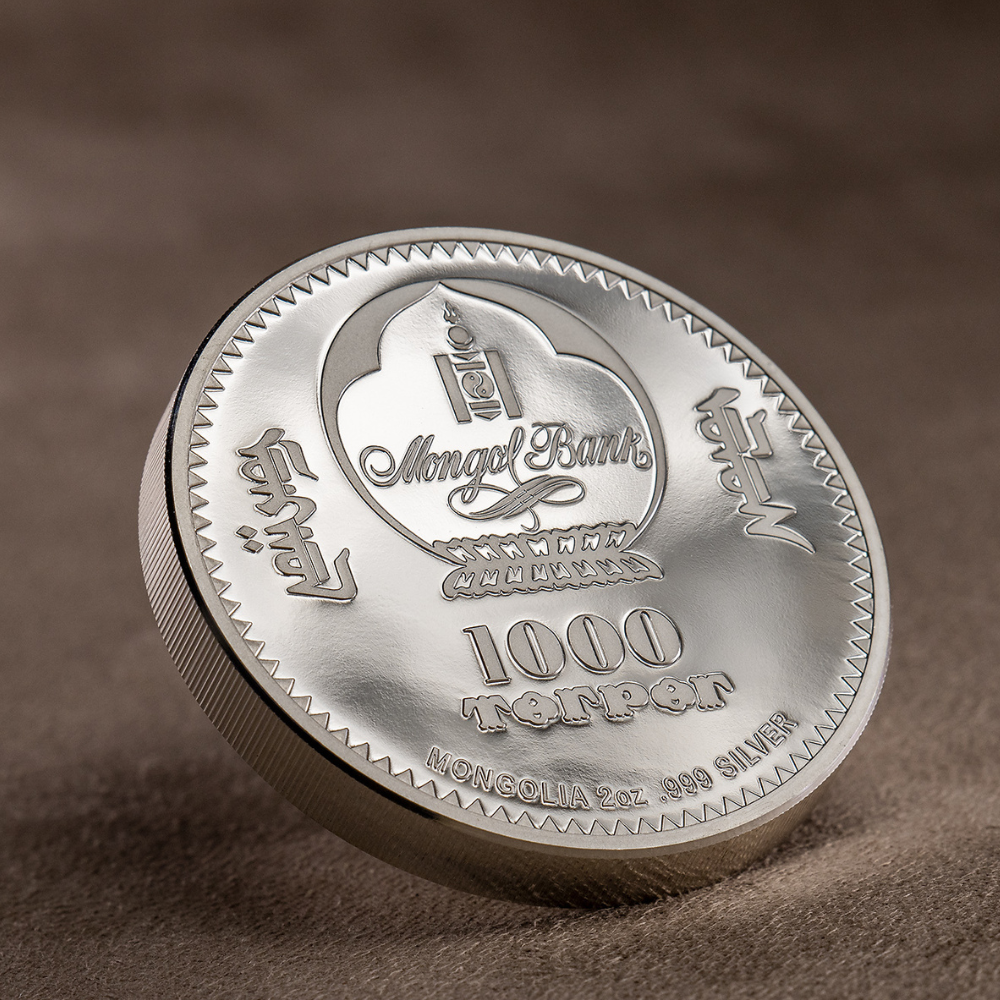 TSAREVICH FABERGE EGG Peter Carl 2 Oz Silver Coin 1000 Togrog Mongolia 2023
This amazing 2 Oz Silver coin is the new release in a series honoring the famous Fabergé eggs, in this edition – the famous "Tsarevich" Fabergé egg. The coin features the Smartminting technology, has a Proof quality, has a beautiful coloration and comes in a themed case, along with the Certificate of Authenticity. Limited mintage to 888 pieces worldwide!
Step into the opulent world of Peter Carl Fabergé with the Tsarevich Fabergé Egg Peter Carl 2 Oz Silver Coin. This exquisite coin is the fourth edition in a series that celebrates the masterful artistry of Fabergé and his iconic Imperial Easter Eggs. The Tsarevich Egg, a lost and rediscovered treasure, takes center stage in this stunning piece of numismatic art.
Crafted from .999 fine silver, this coin captures the intricate beauty and elegance of the original Tsarevich Egg. The design showcases the vibrant blue lapis lazuli, meticulously adorned with gold and diamonds, reflecting the lavishness and attention to detail that Fabergé was renowned for. Inside the egg, a double-headed imperial eagle clutches a portrait of young Alexei Nikolaevich, the beloved son of Tsar Nicholas II and Tsarina Alexandra Feodorovna.
Limited to a mintage of 888, this coin is a rare and highly sought-after treasure for collectors and enthusiasts. Each coin is struck to proof quality, ensuring the highest level of craftsmanship and detail. With a diameter of 38.61 mm, the coin's size allows for a close examination of the intricate design elements that pay homage to Fabergé's artistic genius.
Using the innovative smartminting® technique, this coin achieves a high relief that brings the Tsarevich Egg to life. The three-dimensional design adds depth and dimension, allowing you to truly appreciate the artistry and craftsmanship that went into creating this masterpiece.
Take a journey into the world of luxury, elegance, and history with the Tsarevich Fabergé Egg Peter Carl 2 Oz Silver Coin. Whether you are a collector of fine art or a lover of Fabergé's iconic creations, this coin is a testament to the enduring legacy of one of history's greatest craftsmen. With its exceptional quality, limited mintage, and captivating design, this coin is sure to become a cherished addition to any collection.
smartminting©
The smartminting© technology is a ground-breaking advancement in contemporary numismatics that permits an unparalleled level of ultra-high relief, and it establishes novel benchmarks in the coin industry.
This technology enables the production of standard weight coins with larger diameters, while maintaining high relief height.

It also allows for coins with greatly reduced weight to maintain standard relief heights and permits coins with only slightly increased weight to exhibit high relie