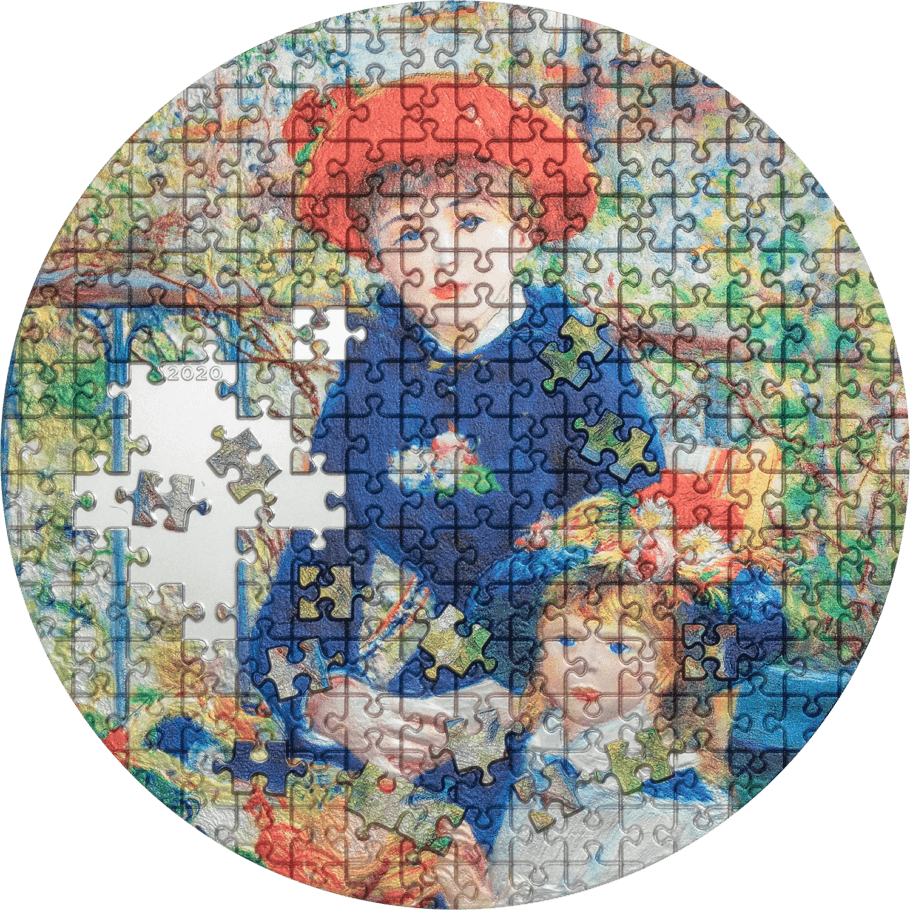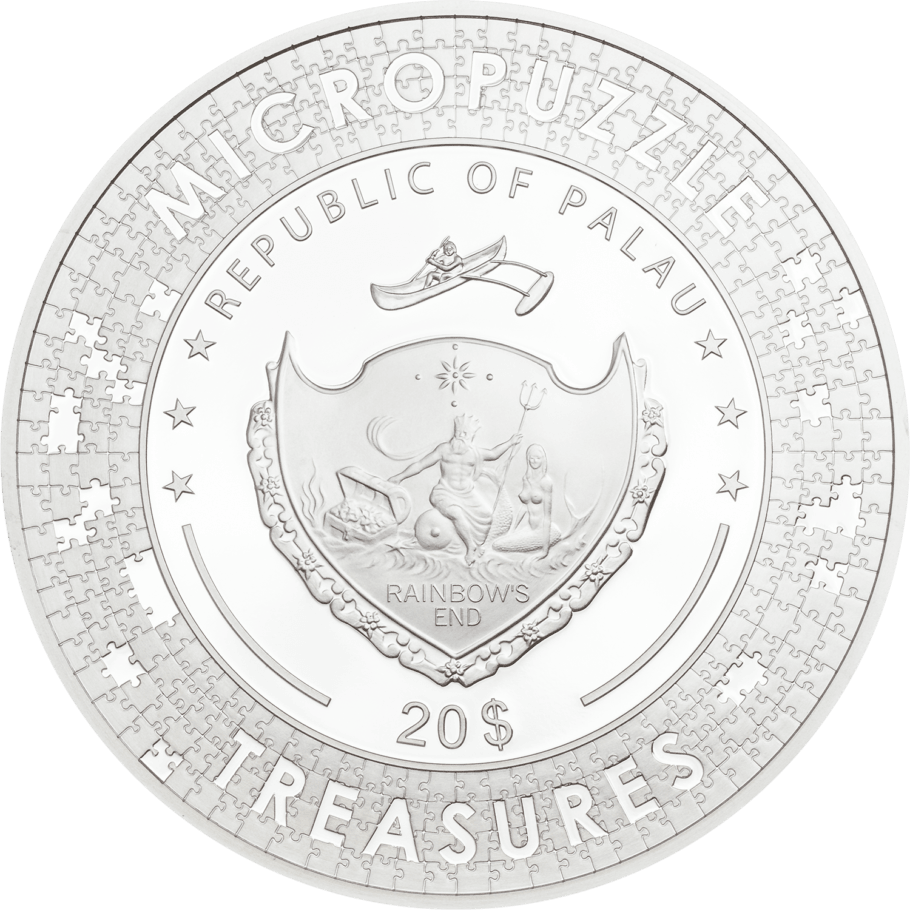 TWO SISTERS on the Terrace Renoir Micropuzzle Treasures 3 Oz Silver Coin $20 Palau 2020
This extraordinary 3 Oz Silver coin is the second issue from the "Micropuzzle Treasures" series, dedicated to micropuzzle Art and to Renoir's masterpiece – Two Sisters (On The Terrace). The coin features 254 minted pieces thanks to the Smartminting technology and comes in a themed case, along with the Certificate of Authenticity. Limited mintage of only 499 pieces worldwide!
Only 1 unit left
Step into the enchanting world of Impressionist art with the Two Sisters on the Terrace Renoir Micropuzzle Treasures 3 Oz Silver Coin. Inspired by the renowned painting by Pierre-Auguste Renoir, this coin is a celebration of beauty, color, and the joy of everyday life. Struck in 2020 by the Republic of Palau, this limited-edition silver coin showcases the timeless masterpiece of Renoir's iconic artwork, with a mintage of only 499 pieces.
The Two Sisters on the Terrace is a beloved painting that captures a serene moment of two young sisters enjoying a leisurely afternoon on a terrace. Renoir's signature brushstrokes and vibrant colors bring life to the scene, as the sisters are surrounded by lush foliage and bathed in warm sunlight. This coin encapsulates the essence of the original artwork, preserving every delicate detail and the charm of Renoir's distinctive style.
As a true testament to artistic craftsmanship, this coin features a remarkable micropuzzle treasure technique. Utilizing microengraving technology, the coin's surface is intricately engraved with tiny pieces that come together to form a micro puzzle. The meticulous precision and attention to detail in the micropuzzle technique ensure that the essence of Renoir's painting is beautifully translated onto the coin's surface.
With a weight of 3 oz and a diameter of 65 mm, this silver proof coin provides ample space for the coin's design to shine. The proof quality enhances the depth and clarity of the artwork, showcasing the vibrant colors and textures with incredible precision. Struck from .999 fine silver, this coin embodies the highest standards of quality and artistry.
Embrace the beauty and grace of Renoir's Two Sisters on the Terrace with this extraordinary silver coin. As one of only 499 lucky collectors, you will not only own a piece of art history but also have a captivating numismatic treasure. The Two Sisters on the Terrace Renoir Micropuzzle Treasures 3 Oz Silver Coin is a remarkable tribute to Renoir's artistic legacy, capturing the essence of his masterpiece in a truly unique and collectible form.
smartminting©
The smartminting© technology is a ground-breaking advancement in contemporary numismatics that permits an unparalleled level of ultra-high relief, and it establishes novel benchmarks in the coin industry.
This technology enables the production of standard weight coins with larger diameters, while maintaining high relief height.

It also allows for coins with greatly reduced weight to maintain standard relief heights and permits coins with only slightly increased weight to exhibit high reliefs.