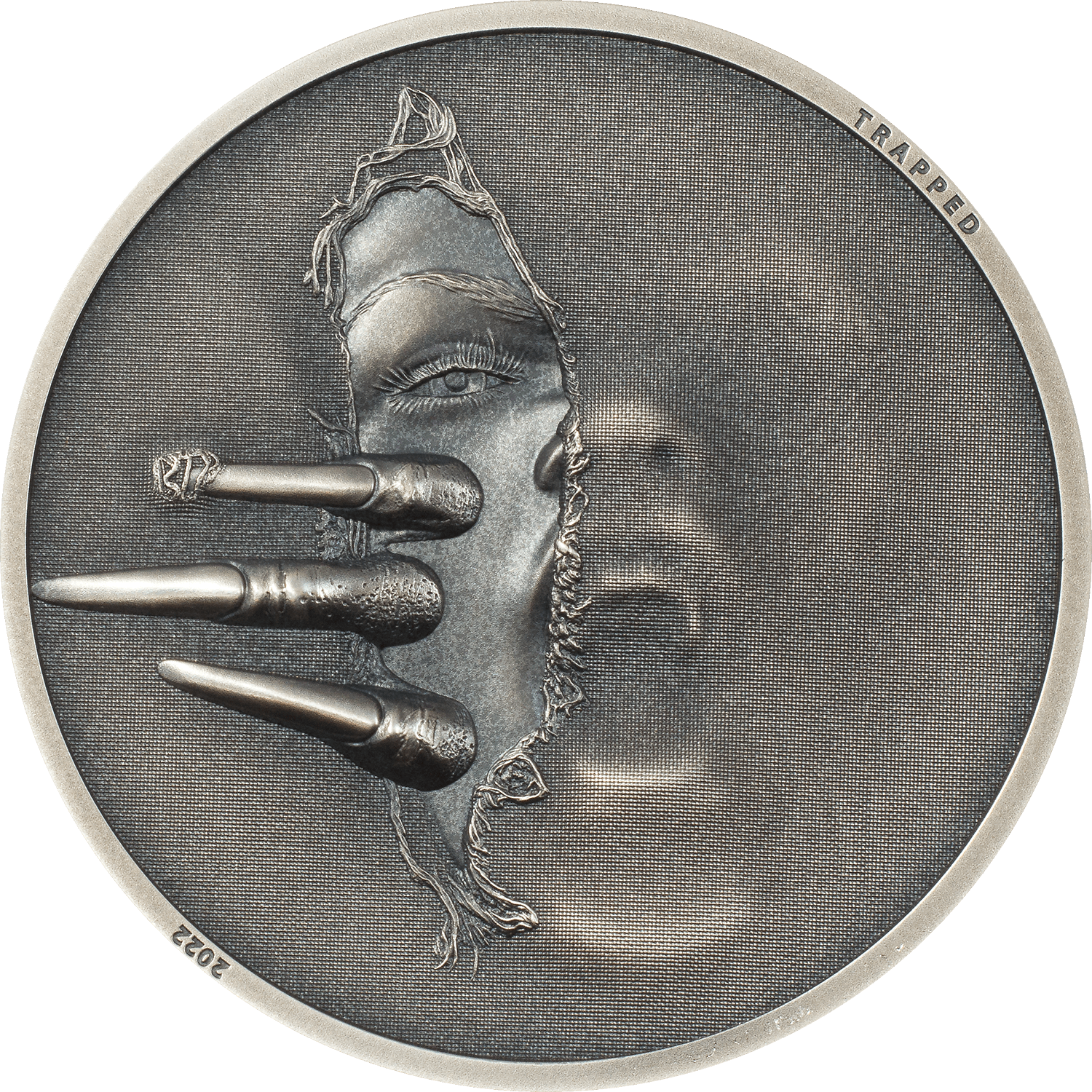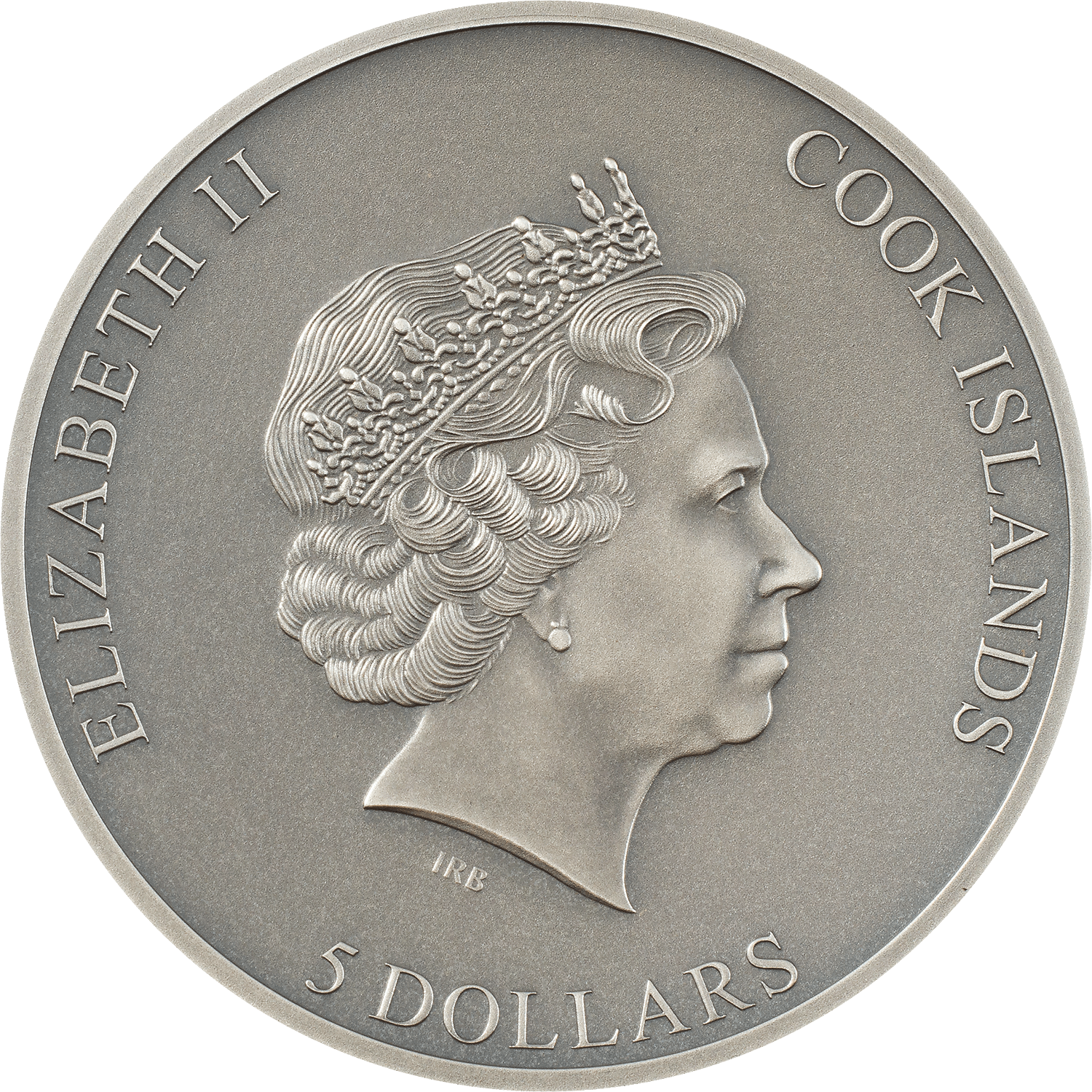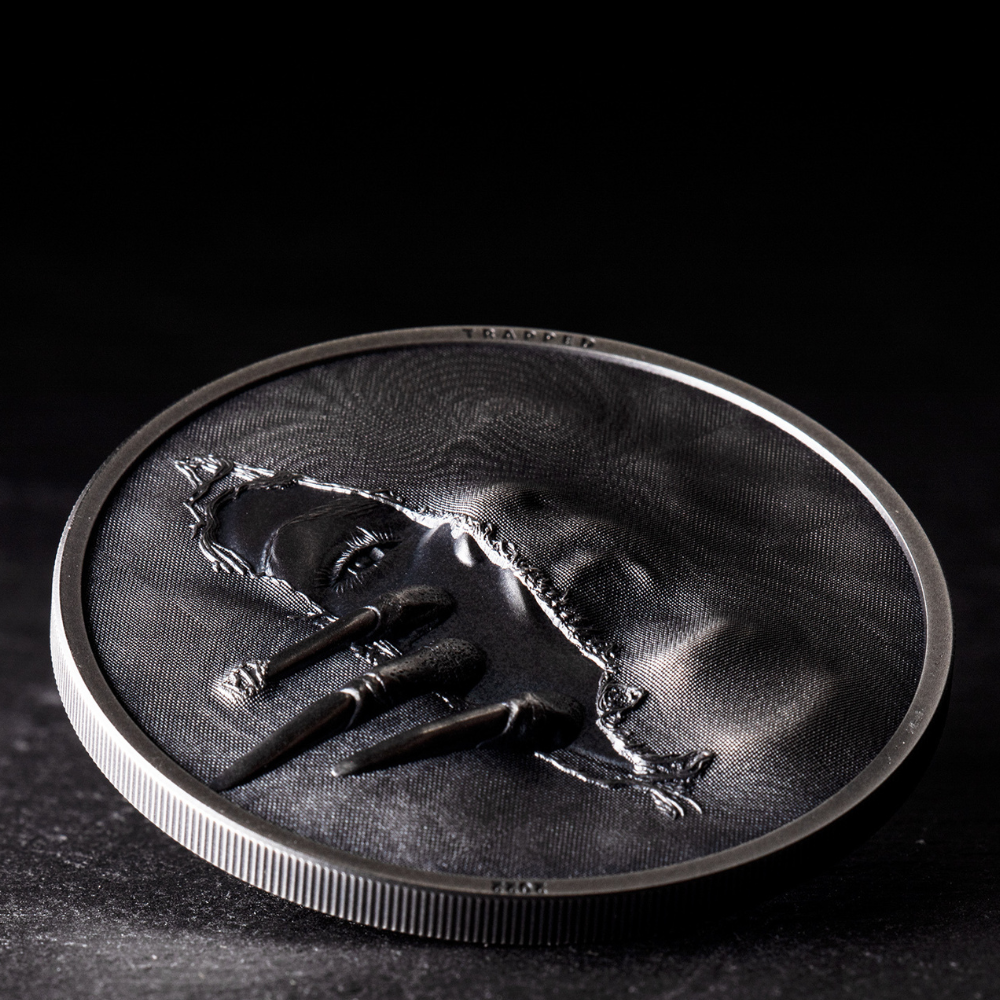 UNTRAPPED 1 Oz Silver Coin $5 Cook Islands 2022
This incredible 1 Oz Silver coin is the fourth issue in the "Trapped" series and depicts someone trying to escape. The coin features a beautifully reticular design thanks to the Smartminting technology, has an Antique Finish quality and comes in a case, along with the Certificate of Authenticity. Limited mintage of only 999 pieces worldwide!
Experience the captivating narrative of the UNTRAPPED 1 Oz Silver Coin, the highly anticipated fourth edition in the Trapped series. Breaking free from the confines of its predecessors, this coin introduces an intriguing twist. The question arises: is it the offender or the transformed victim attempting to escape the clutches of the Trap attack? The astonishing level of detail in the stretched fabric, combined with ultra-realistic sloping relief, elicits a visceral response that sends shivers down your spine. Crafted from 1 ounce of pure silver in an antique finish, this limited edition coin consists of only 999 pieces for collectors worldwide. Just like its predecessors, we anticipate that this issue will swiftly sell out. Will this mark the conclusion of the enthralling story? Stay tuned to unveil the final chapter.
Crafted with the utmost precision, this 1 oz silver coin showcases the exquisite artistry of smartminting® technology. The silver composition of .999 purity ensures the coin's enduring value and lasting beauty. With a diameter of 38.61 mm, the coin's size allows for intricate details to be intricately captured, captivating the observer with its depth and realism. The antique finish adds a touch of antiquity and allure, enhancing the overall aesthetic appeal.
The UNTRAPPED coin is a true masterpiece that blurs the boundaries between reality and imagination. As you hold this coin in your hands, you can't help but appreciate the skill and artistry that went into its creation. Each curve, fold, and contour of the fabric comes to life, creating a sense of movement and anticipation. The high relief design adds an extra dimension, elevating the visual impact of the artwork.
With a limited mintage of 999 pieces, this coin is a must-have for collectors and enthusiasts alike. It represents an opportunity to own a unique piece of numismatic art and become part of the narrative that unfolds with each edition of the Trapped series. Don't miss your chance to acquire this exceptional coin that pushes the boundaries of creativity and storytelling. Embrace the mystery, capture the essence of the Untrapped, and add a touch of intrigue to your collection.

smartminting©
The smartminting© technology is a ground-breaking advancement in contemporary numismatics that permits an unparalleled level of ultra-high relief, and it establishes novel benchmarks in the coin industry.
This technology enables the production of standard weight coins with larger diameters, while maintaining high relief height.

It also allows for coins with greatly reduced weight to maintain standard relief heights and permits coins with only slightly increased weight to exhibit high reliefs.