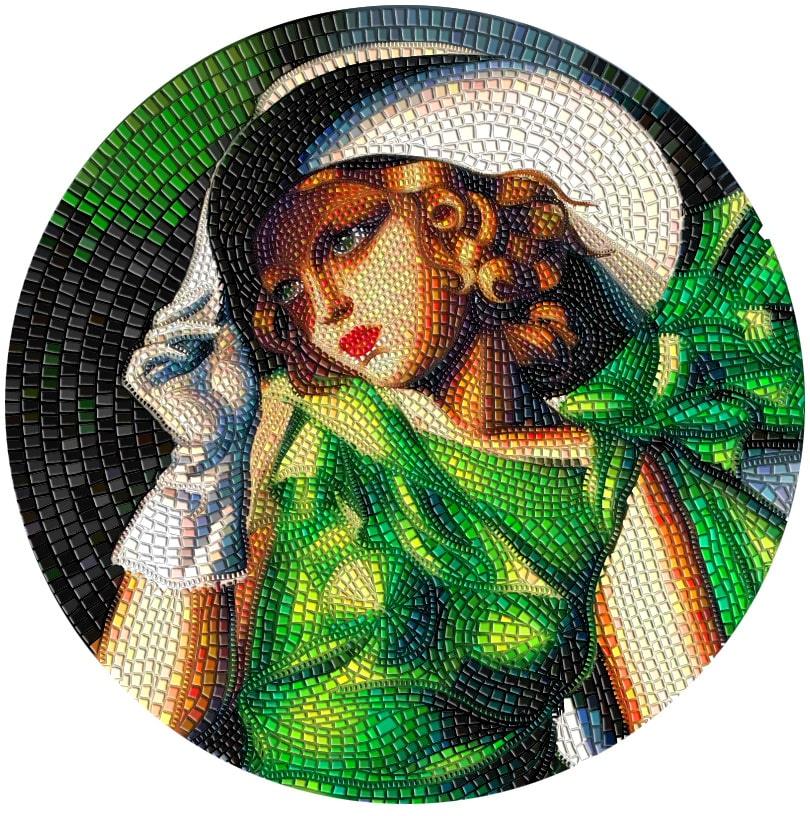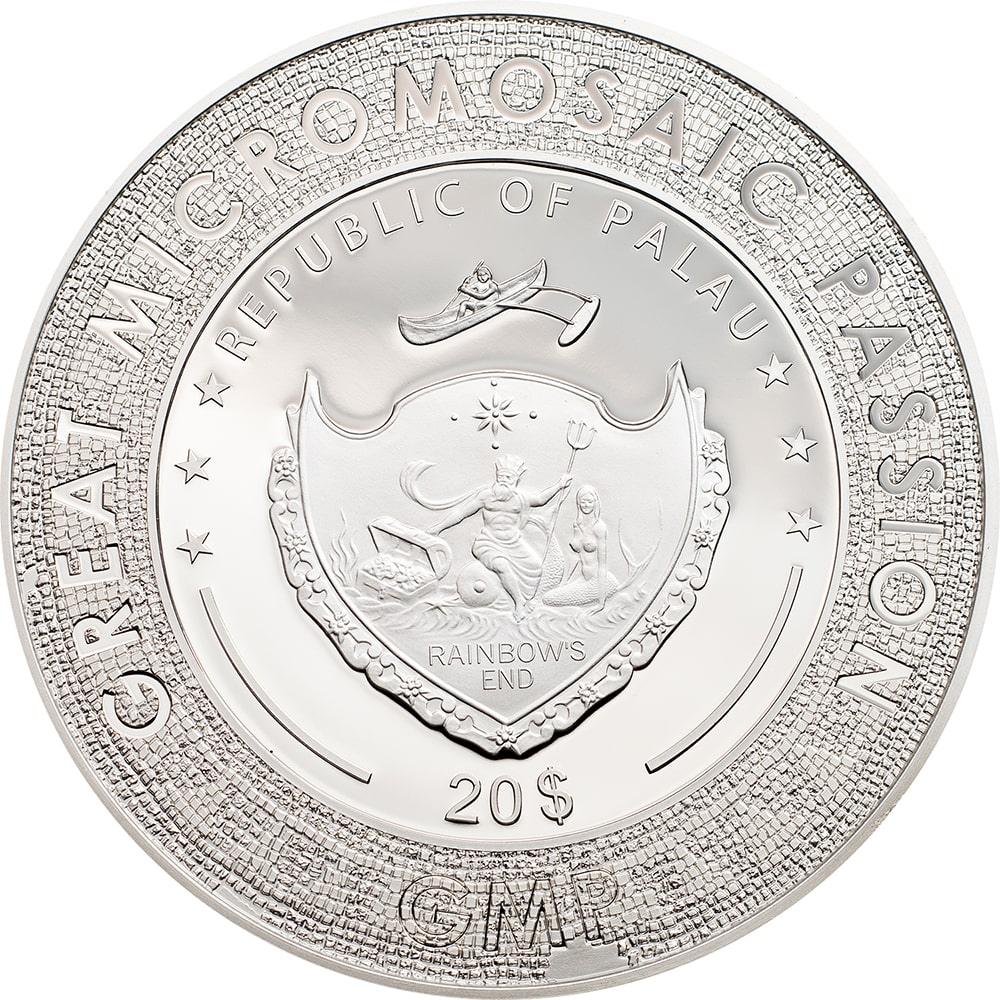 YOUNG GIRL IN GREEN Tamara de Lempicka Great Micromosaic Passion 3 Oz Silver Coin $20 Palau 2021
This 3 Oz Silver coin is the fifth issue in the innovative "Great Micromosaic Passion" series, dedicated to mosaic art and to Tamara De Lempicka's most famous painting – Young Girl In Green. The coin features more than 8000 minted tiles thanks to the Smartminting technology and comes in a mosaic tile shaped case, along with the Certificate of Authenticity. Mintage of only 499 pieces worldwide!
In stock
Step into the enchanting world of art deco with the YOUNG GIRL IN GREEN Tamara de Lempicka Great Micromosaic Passion 3 oz silver coin. As a tribute to the iconic artist, this coin showcases the captivating painting "Young Girl in Green" by Tamara de Lempicka. Known for her distinctive style and portrayal of bold, glamorous figures, Lempicka's art continues to captivate art enthusiasts worldwide.
The coin's design features an extraordinary micromosaic recreation of Lempicka's masterpiece. Each tiny tile is meticulously crafted to capture the vibrant colors, intricate details, and subtle textures of the original artwork. The young girl, dressed in a striking green gown, emanates an aura of elegance and mystery. The combination of micromosaic technique and the coin's proof quality brings this artwork to life with remarkable precision.
Crafted from 3 oz of .999 silver, this coin is a true masterpiece in itself. The large 65 mm diameter allows for an expansive canvas, showcasing the intricacies of the micromosaic in stunning detail. The proof quality ensures a flawless finish, highlighting the delicate beauty of the young girl and the vibrant green hues that envelop her. With a limited mintage of only a few hundred pieces, this coin is a rare and precious treasure for any collector or admirer of Lempicka's art.
The YOUNG GIRL IN GREEN Tamara de Lempicka Great Micromosaic Passion 3 oz silver coin is accompanied by a certificate of authenticity, attesting to its genuine nature and quality. It comes beautifully presented in a display case, allowing you to admire its splendor from all angles. Whether you are a seasoned collector or a passionate art enthusiast, this coin is a remarkable testament to the enduring legacy of Tamara de Lempicka and her contribution to the art world.
Immerse yourself in the world of art deco and celebrate the captivating allure of Tamara de Lempicka's "Young Girl in Green" with this extraordinary silver coin. Embrace the elegance, grace, and artistic vision that Lempicka epitomized and own a piece of her iconic legacy that will be cherished for generations to come.
smartminting©
The smartminting© technology is a ground-breaking advancement in contemporary numismatics that permits an unparalleled level of ultra-high relief, and it establishes novel benchmarks in the coin industry.
This technology enables the production of standard weight coins with larger diameters, while maintaining high relief height.

It also allows for coins with greatly reduced weight to maintain standard relief heights and permits coins with only slightly increased weight to exhibit high reliefs.