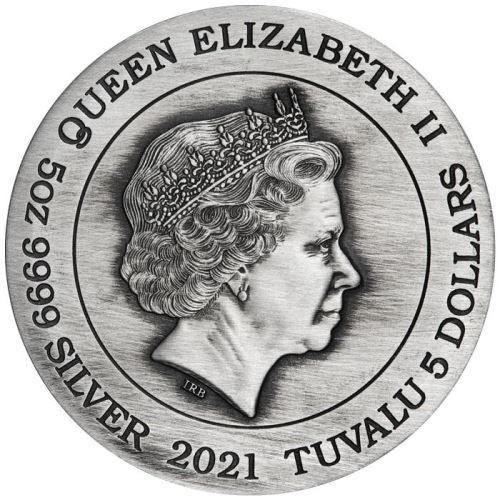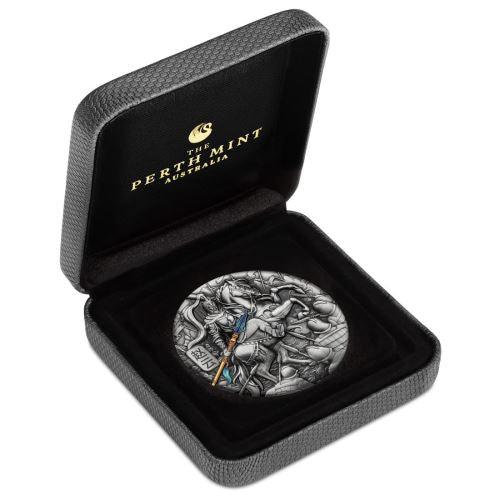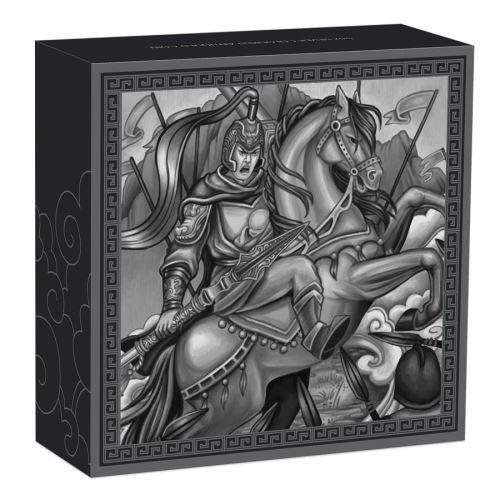 ZHAO YUN Ancient Chinese Warrior 5 Oz Silver Coin $5 Tuvalu 2021
This marvelous 5 Oz Silver coin is dedicated to the ancient Chinese warrior "Zhao Yun", who was a commander during the late Han Dynasty. The coin presents wonderful High Reliefs, has a coloration of blue and gold, an Antique Finish quality and comes in a case, along with a Numbered Certificate of Authenticity. Limited mintage of only 388 pieces worldwide!
Only 1 unit left
Step into the rich tapestry of ancient Chinese history with the 2021 Tuvalu Zhao Yun Colored 5oz Silver Antiqued coin, a truly magnificent offering by the Perth Mint for the island nation of Tuvalu. This fine coin pays tribute to the military prowess and unwavering loyalty of the legendary Chinese General Zhao Yun during one of the most turbulent and bloody periods in China's history. Zhao Yun's expert combat skills and supreme courage are immortalized in this captivating design, capturing a defining moment from his life - the Battle of Changban in 208.
The reverse of the coin showcases an active scene during the Battle of Changban, depicting Commander Zhao Yun in the midst of the intense battle, leading his men to victory against all odds. The hand-applied selective colorization of his ornate spear in blue and gold adds to the sense of Zhao Yun's dynamic engagement and strategic leadership. The antiqued surface finish, individually applied by hand, gives each coin a unique appearance, conveying the surface abrasions of an ancient artifact, making each piece a one-of-a-kind collectible.
As a legal tender release by Tuvalu, the obverse of the coin features the Ian Rank-Broadley effigy of Her Majesty Queen Elizabeth II, adorned with the same hand-applied antiqued finish for a vintage appeal. Inscriptions encircling the rim include the coin's weight, purity, denomination, year of issue, and the nation of Tuvalu.
With an extremely low mintage of only 388 pieces worldwide, this highly-collectible coin is a premium offering for numismatists and history enthusiasts alike. The 2021 Tuvalu Zhao Yun Colored 5oz Silver Antiqued coin comes presented in a classic black Perth Mint branded coin case, accompanied by a numbered Certificate of Authenticity, ensuring its provenance and authenticity. The encased coin arrives in an awe-inspiring themed shipper, completing the exquisite presentation.
Step back in time and witness the valor of General Zhao Yun with this captivating coin that brings history to life. Whether you are a collector seeking rare and exclusive pieces or someone passionate about ancient Chinese history, this coin is a stunning addition to any collection.